Who is Gaîté?
Gaîté (french) signifies cheerfulness and 'joie de vivre'
It is important to Gaîté to be able to improve the quality of life of our customers. Whether you wear contact lenses or glasses, we always look for the best fitting solution.
"Junger Kontaktlinsen" has been in business for over 30 years, which makes the fitting of contact lenses one of our greatest strengths. We particularly enjoy difficult cases, as we appreciate the challenge and can help people who are often on the verge of resigning themselves to restricted vision.
This is also known to numerous doctors – from private practices as well as hospitals – who have been referring their patients to us for many years. You can rely on us, too! We're looking forward to accompanying you on your way to better vision.
In order to offer beautiful glasses to people with very high corrections, we decided to launch our own collection of frames. This way we can spread a little "Gaîté" not just with contact lenses, but also through our glasses.
I can now rely on over 35 years of experience and know what matters when it comes to lenses. For me, good service is my top priority, as my profession concerns the health of your eyes.
Career
1987 Successful completion of the higher professional examination to become a federally certified optician at the School of Optometry (SHFA) in Olten.
1988 Humanitarian work for AC Opticals in Malawi, Africa.
1989-1991 Contact lens specialist at Ott, Zurich
1991 Foundation of Junger Kontaktlinsen
1993-1997 Lecturer in contact lenses at SHFA Olten
1993-2000 Numerous lectures at professional conferences in Switzerland and abroad, especially in the field of contact lens fitting for keratoconus and after keratoplasties
2008-2010 Humanitarian work in the field of contact lens fitting for keratoconus and other corneal diseases in Morocco, Africa
2011-2015 Strategic partnership with Burri Optik and relocation to the joint headquarters in Zurich
2015 Foundation of Gaîté GmbH at limmatquai 56, 8001 Zurich with my own collection of sunglasses.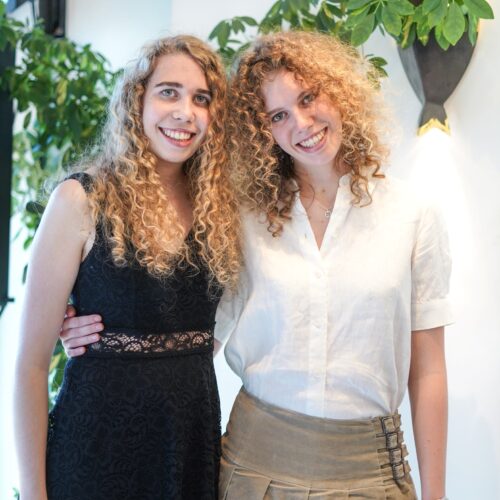 Angelica Junger is also supported by her daughters, besides other things, they are in charge of instagram and facebook.
Nina Purmann
Nina studies psychology at the UZH and is as the second oldest responsible for the creative area of Gaîté. In addition to window dressing and designing various promotions, she is one of the photographers for Instagram.
Julia Purmann
Julia is the youngest of the three siblings, but not to be underestimated. She starts her studies at the ETH in September 2021 and is responsible for organisational matters at Gaîté in addition to Instagram.
The newest member of our team, who fits perfectly thanks to his additional training in the design field. From optical technical advice, repairing glasses in the workshop to designing various decorations, he is a great help in all areas.
"For me, there is only one contact lens specialist in Zurich and that is you [Angelica Junger]. We have known each other since 1989 and I believe that my complicated eye correction (strong astigmatism and high myopia) could'nt be in more competent hands than with you. Thank you very much for making it possible for me to continue wearing contact lenses with your excellent work. With the expansion of your range to include corrective and sunglasses, your expertise in this area is now also available to me. The perfect addition! I appreciate not only your expertise and professionalism but also your personality."

Susanne Scavezzon

translated from german
"As a wearer of keratoconus lenses, an individual consultation as well as a very precise measurement / fabrication of the contact lenses is of great importance to me. Ms. Junger was able to even exceed my expectations, as her expertise in this area is of world class!"

Stepan Kopec

translated from german
"As a contact lens wearer with very complicated requirements due to irregular astigmatism, I am very happy to have met Mrs Junger as my new optician. Very professional, she devoted a lot of time to me right from the start, advised me very well and found the ideal solution for me. I can highly recommend Ms Junger as a very competent and very friendly optician.
Best optician ever."

Manuela Schmid

translated from german
"After several unsuccessful consultations and fittings of various contact lenses at other opticians, who unfortunately could not satisfy my requirements due to my keratoconus, I finally met Mrs. Junger. Right away I felt that I was in good hands. Her expertise and competence finally gave me the feeling that I was getting closer to a solution; and this was really the case. In a short time she was able to have the right keratoconus lens made and for me it was an end to my suffering. I went to her with less than 40% visual acuity and now I see 100% again. What a feeling!
I can't thank Mrs. Junger enough for her great work. I can recommend Ms Junger with very high conscience."

Gaetano Arena

translated from german
"Whereas all larger opticians simply brush you off, you are in good hands with Mrs. Junger! Highly competent and, above all, very authentic! Not only for a prescription, since Mrs. Junger also designs glasses herself, she has an extremely good feeling for what might suit you. Moreover, where the big opticians lack (toric) lenses in stock, Mrs Junger usually has a pack left over! My new regular optician!"

Michael Colombo

translated from german
"I have been a customer of Mrs. Junger for more than two years. Because of my special astigmatism, I was advised to wear special scleral lenses. Thanks to the excellent advice, fitting and care from Mrs. Junger, I now have almost 100% vision again!"

Tom Remitschka

translated from german
"I can highly recommend Gaité contact lenses. Before, I had already been to three other opticians where you could tell that they lacked the knowhow about contact lenses. At Gaité, the two ladies are highly specialised and I realised within the first few minutes that I was in extremely competent hands. Although I have very dry eyes, they found the perfect form-stable lenses for me, which I have been wearing every day since then with pleasure and without any problems. Friendliness, expertise and a lot of experience are definitely the strengths of the team at Gaité."

M. S.

translated from german